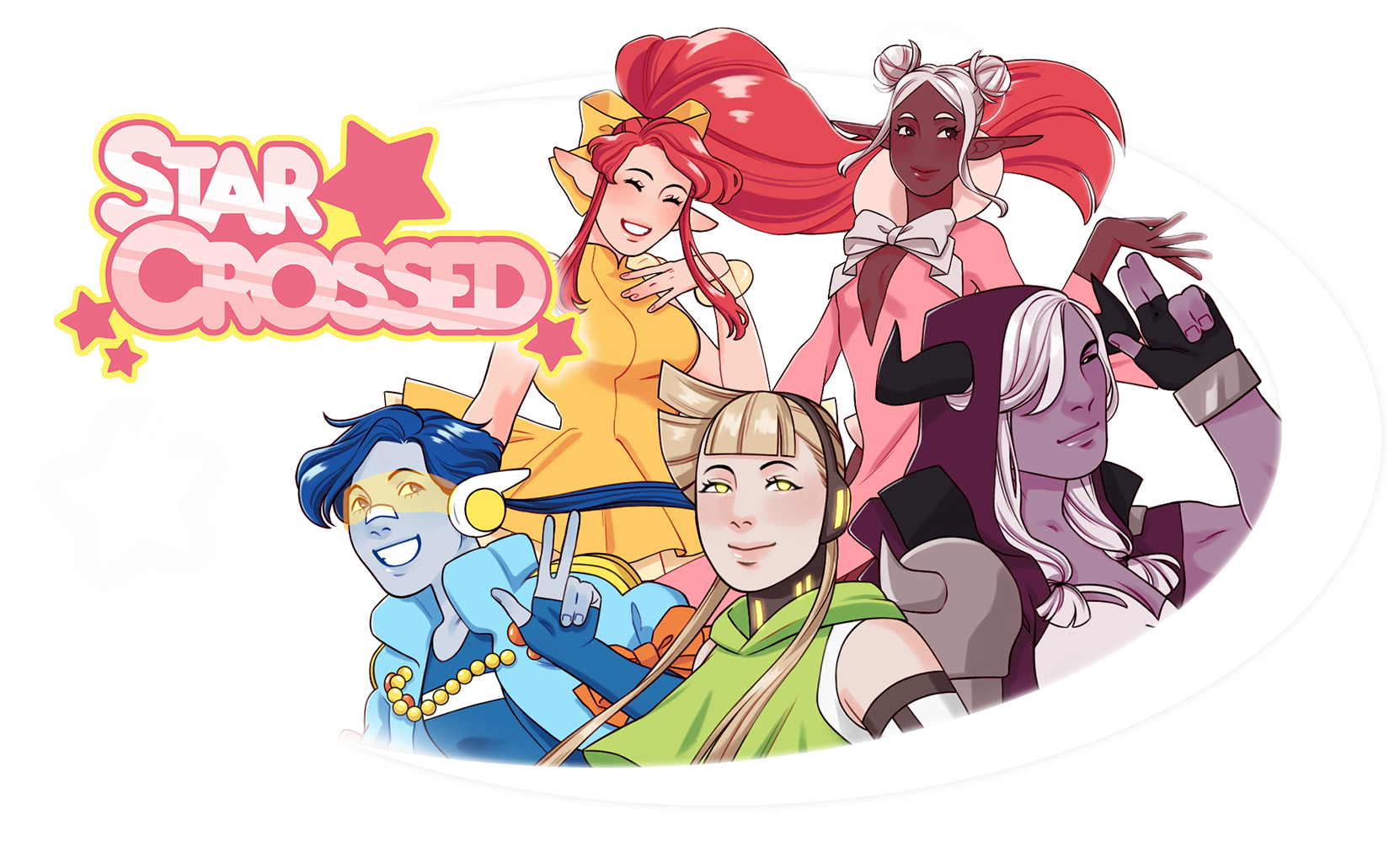 StarCrossed
StarCrossed coming to itch.io on Feb. 11!
---
Hello Itch!
We're excited to announce that StarCrossed will be released on February 11, 2020 for PC and Mac.
✨✨✨✨✨

It's so soon! We'll be offering a 10% discount during our launch week, so don't forget to swing by and pick up a copy! We'll also be releasing the StarCrossed soundtrack, an original track list of magical and spacey tunes composed by Pearl Pixel!
It's been quite some time since we launched the StarCrossed page here on itch. We've been happy to see our follower numbers rising over time and we're so excited to share our game with you!
We'll be posting some great content on our social media in the coming weeks as we approach launch. Please follow us on Twitter!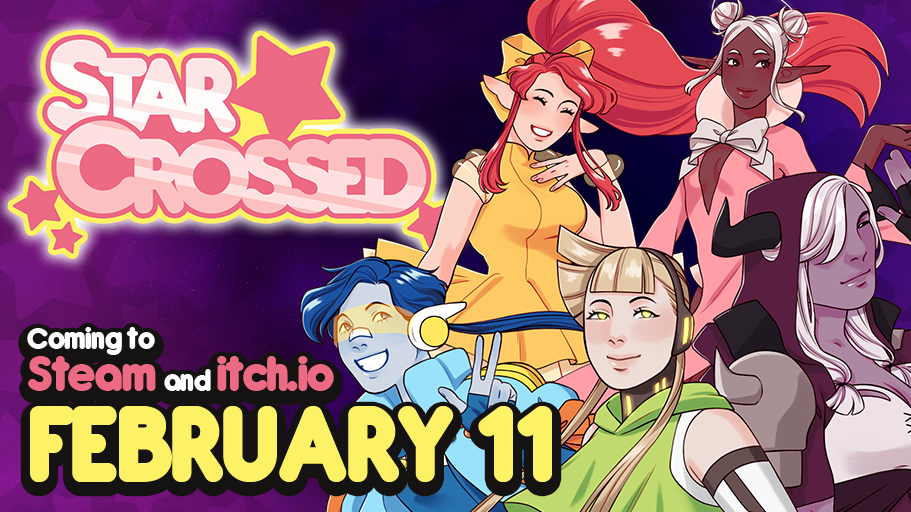 StarCrossed is an action arcade game with a magical girl aesthetic and a cooperative twist! Join our cast of 5 space-faring heroes as they travel across the stars, working together to strengthen their bond and defeat a looming evil that threatens the Nova galaxy! It's time to team up, get sparkly, and take out the bad guys!
Cast of 5 playable characters to choose from!
StarCrossed features a group of magical heroes who have been chosen to defend the galaxy during a time of crisis. Each hero has their own unique ultimate ability which can be used during gameplay. Every pair of characters has unique dialogues which explore their relationship to each other and to the universe. Mix and match to explore the characters' personalities!
Designed from the ground up for 2 player local co-op!
Everything in StarCrossed, from the mechanics to the aesthetic, was designed around the themes of cooperation and togetherness. Play on keyboard or grab some controllers! Split controller mode offers the option for solo play or an even cozier two player experience.
Get competitive with Arcade Mode!
Endless procedurally generated waves of enemies make Arcade Mode perfect for high score chasers! Show your Steam friends who the real heroes are by topping the Friends Leaderboard, or go for galactic domination by climbing the Global Leaderboard!
Explore the galaxy in Story Mode!
Visit new places and meet our quirky supporting cast in Story Mode! With visual novel style dialogue scenes and an epic quest, this mode is for the players who want to learn more about the Nova Galaxy and become true Guardians!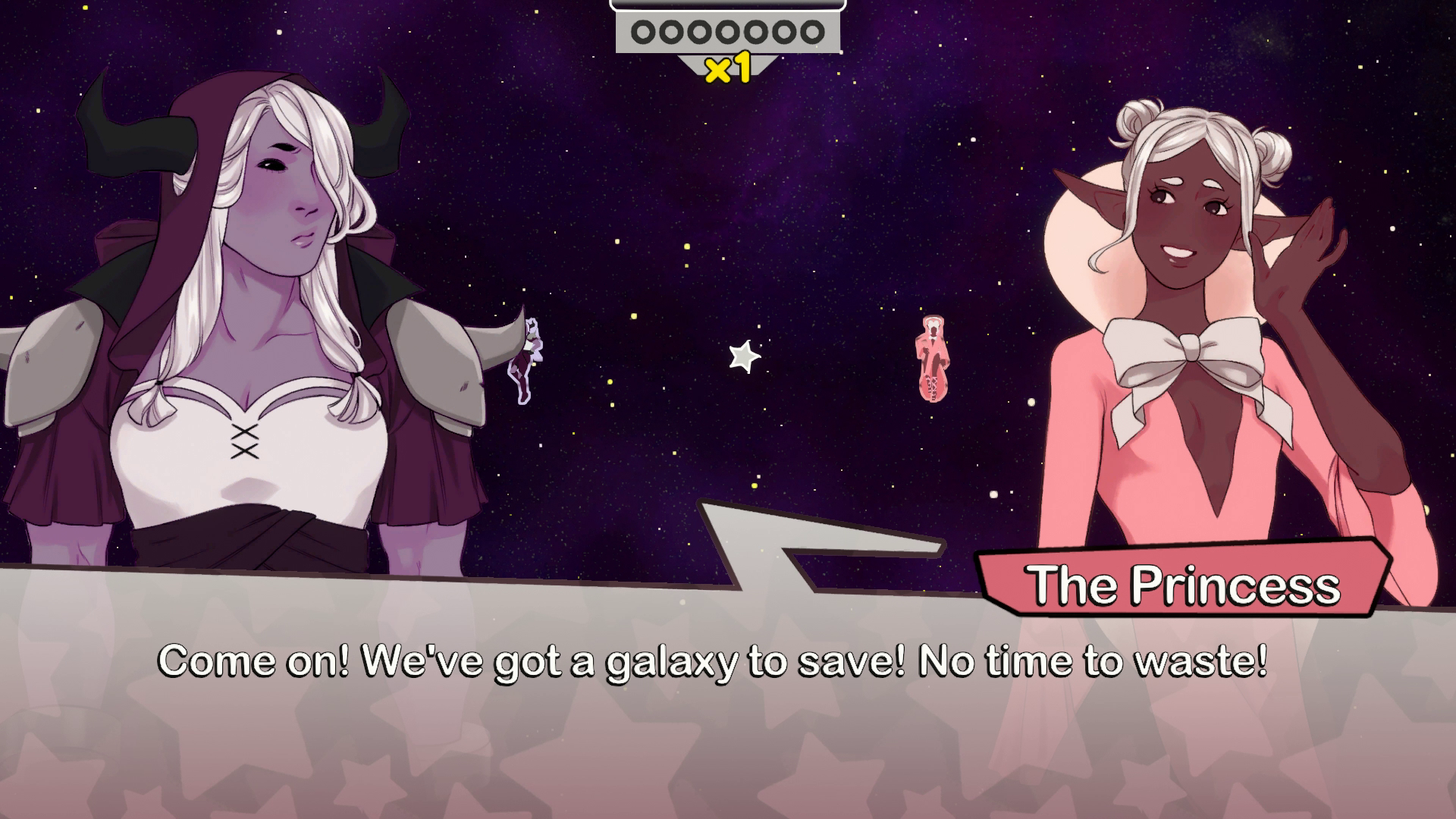 About the team:
Contigo Games is a small studio dedicated to creating multiplayer games and playful experiences to bring players together in meaningful ways. The story of our studio is a story of friends who wanted to stay close even when life pulled us geographically far away. Contigo Games was founded in 2016 in Massachusetts, USA to work on StarCrossed. As personal obligations forced us to move apart, Contigo continued existing as a remote team. We've been working on StarCrossed for a little over 4 years now, but our goal remains the same as it was on day 1: to create a game about cooperation and friendship which brings players together the same way that creating it has kept us together.
In 2019, we launched a Kickstarter to help fund the development of the game and we've been working hard this past year to finally finish our game and send it out into the world. Thank you so much for your support!

Questions? Excited? Leave a comment here or find us on Twitter! See you on Feb. 11!

Are you a streamer and want to get involved? Please express interest through this form!
Press inquiries: hello@contigo-games.com